I'm confident you have heard the saying, "Kindness is contagious," before right? Well, if you hadn't- now you have! The idea that showing someone kindness, even through just a smile, can be passed on to that person making them more likely to be kind to someone else is one that has been handed down through generations.
Just recently new research was conducted that may unlock the mystery; is kindness really contagious? According to a 2010 study done by researchers at the University of California, Los Angeles, the University of Cambridge, and the University of Plymouth, "It is natural for people to seek the positive emotions that accompany seeing and doing acts of kindness." (1) Because there is moral beauty in being kind, humans have a natural desire to see others be kind, and in return to be kind themselves causing a natural high-like sensation. Research published in the journal of Biological Psychiatry has even aimed to learn what these moral, high-like elevations actually look like in the brain and human body. (2)
So, what does this mean for you?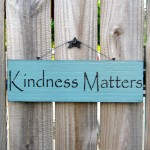 It means to be kind, of course! When we take the necessary time to be kind to those around us in both big and small ways we can pass on our kindness to everyone we cross paths with. Believe me, there are far worse things in life than creating a society of kind people who love to spread their kindness to others! Here's a few ways you can show kindness today!
Smile. You can impact a large number of people with kindness simply by smiling. It doesn't take any more time to smile than it does to frown. In fact studies have shown when you frown you actually use more muscles than you do when smiling. Remind yourself to offer others smiles whenever you get the chance.
Help. Whether it's through simply being aware of your surroundings when you witness people needing help, or by volunteering your services to a needy cause by helping others you can show kindness.
Listen. A listening ear is a kind ear. Often times people are just looking for someone to talk to who will listen. Be kind today by listening to a loved one, friend, child, or even a complete stranger. Kindness knows no bounds.
For once, an old wise tail passed down from generation to generation is ringing true according to science. Kindness is truly contagious. Spread the word, and the love by being kind to one another every chance you get.
Mark D. Parisi, Psy.D. & Associates, P.C. provides counseling, psychological testing, and psychotropic medication management in Mount Prospect and Chicago – serving surrounding Cook, Lake, DuPage, and Will Counties. They accept most insurance and offer extremely affordable sliding scale rates. Call (847) 909-9858 for a free, no-obligation telephone consultation.
###
Sources:
Kindness is Contagious, New Study Finds, Kindness is contagious study findings, 2010, https://helix.northwestern.edu/article/kindness-contagious-new-study-finds
Autonomic and Prefrontal Evens During Moral Elevation, Research on moral elevations, 2015, http://www.ncbi.nlm.nih.gov/pubmed/25813121