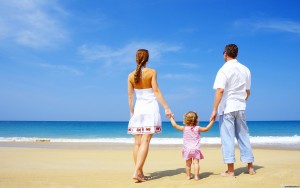 With over 35 percent of all U.S. marriages ending in divorce according to the Centers for Disease Control and Prevention (CDC), shared or split custody of children is becoming part of the norm. (1) But how do parents cope with shared custody of their children?
It goes without saying how challenging it is to go from seeing your child(ren) on a daily basis to half the time with shared custody. Oftentimes these periods when the child is in the opposite parent's care, can lead to sadness, depression, and loneliness. To help you better transition to a shared custody lifestyle, here are a few tips for coping thorough shared custody.
Stop with the "what ifs." When you're lonely and sad because you miss your children it can be easy to get caught up in the "what if" game but you should stop while you're ahead. Asking yourself about what may or may not be different if you had only stayed married won't change or help the situation now. What is, is.
Soak up your time. When it is your turn to care for the child be sure to soak of every moment of your time with them. Get all your moneys' worth, if you will. Whenever you have the chance be spontaneous with them and enjoy each other's company.
Document it. Like with kindergarteners who bring a family photo to school for when they may feel homesick, you should document your favorite times with your children and display them in your home. This means hanging photos of you and your children or displaying their artwork. Having small mementos of them will help make them feel more a part of the home even when they are not physically present.
Invest your time. Often times parents of shared custody children find themselves with empty time on their hands. Though you may not be sure what exactly to do with your new found free time, sulking alone in your home is not the answer. Instead invest it into something enjoyable and that you are passionate about. Learn something new, join a team, or volunteer.
Seek support. People need support for all sorts of life challenges including shared custody. Seek support in loved ones, friends, or even a professional to help. With the support you need you can openly discuss your feelings and any challenges you may have while embracing any aid they may offer you.
With an increasingly high divorce rate, it's obvious why we have so many families living with shared custody. While shared custody offers the benefit of the child being able to spend time with both parents separately, it does leave room for sadness, depression, and loneliness to develop in parents while the child is away. Better cope with shared custody by keeping these 5 tips in mind and applying them to your daily life.
Mark D. Parisi, Psy.D. & Associates, P.C. provides counseling, psychological testing, and psychotropic medication management in Mount Prospect and Chicago – serving surrounding Cook, Lake, DuPage, and Will Counties. They accept most insurance and offer extremely affordable sliding scale rates. Call (847) 909-9858 for a free, no-obligation telephone consultation.
###
Sources:
Marriage and Divorce, Number of divorces statistics, 2014, http://www.cdc.gov/nchs/fastats/marriage-divorce.htm
Child and Family Coping One Year After Mediated and Litigated Child Custody Disputes, General topic information, 1994, http://psycnet.apa.org/journals/fam/8/2/150/
Preparing Your Child for Back-to-School http://www.apa.org/helpcenter/school-rush.aspx