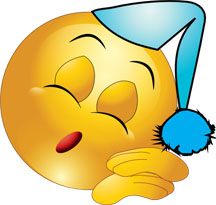 "Sleep is essential for health and well-being," according to the American Psychological Association (APA). (1)Especially in your teenage years, the amount of sleep you receive each night is affecting you either positively or negatively. If you are someone who either doesn't get quite enough sleep or more seriously- struggles with sleep deprivation, odds are you are reaping more of the negative effects.
According to the National Sleep Foundation, 40 million Americans suffer from over 70 different sleep disorders and 60 percent of adults report having sleep problems a few nights a week or more. (2) It's obvious sleep deprivation is a large problem nationwide but how is it affecting your teen?
1. Learning. Roughly one fourth of all teenagers go to bed between the hours of eleven and midnight. With such late bedtimes and early morning wakeups for school, these teens are simply not getting the adequate sleep they require to learn. Absorbing information and applying it takes work, without sleep you can expect your teen's educational performance and ability to learn will worsen.
2. Behavior. Studies have shown that teens who suffer sleep deprivation are more likely to experience emotional distress and act on impulse. Your teen may experience an inability to focus and the need to be hyperactive.
3. Mental health. When your teen lacks adequate sleep they are at a higher risk of feeling sad, hopeless, and depressed. Because of these emotions they are also more likely to have suicidal thoughts. According to one psychologist, "Sleep deprivation and depression go hand in hand." (3)
4. Obesity. Because lack of sleep has been linked to serious health issues such as obesity and diabetes, it goes without saying that your sleep-deprived teen is at a higher risk for developing both.
5. Substance use. With sleep deprivation comes an increased risk for both substance use and abuse with teens. Over-tired teenagers are more likely to turn to alcohol and drugs and because of this, they are also at an increased risk to drink and drive, binge drink, and even participate in sexual behavior.
With 40 Million Americans suffering from sleep disorders, taking into account the teenage population- it begs the question, how is sleep deprivation affecting your teen. If your teen isn't getting the appropriate amount of sleep you can expect them to experience negative effects such as worsened educational performance, hyperactive behavior, depression, obesity, and also an increased risk for substance use and abuse.
Mark D. Parisi, Psy.D. & Associates, P.C. provides counseling, psychological testing, and psychotropic medication management in Mount Prospect and Chicago – serving surrounding Cook, Lake, DuPage, and Will Counties. They accept most insurance and offer extremely affordable sliding scale rates. Call (847) 909-9858 for a free, no-obligation telephone consultation.
###
Sources:
Sleep, Sleep is essential quote, 2015, http://www.apa.org/topics/sleep/index.aspx
Getting a Good Night's Sleep With the Help of Psychology, Number of Americans with sleep disorder stats, 2004, http://www.apa.org/research/action/sleep.aspx
Sleep Deprivation Linked to Depression in Teens, Psychologist quote, 2010, http://www.cnn.com/2010/HEALTH/06/09/sleep.deprivation.depression/