While you may be thinking, "Why would anyone want to fake a mental illness," you may be surprised to learn that while mental illnesses have their obvious negatives, they also offer a handful of positives. Some of which are even believed to be worth faking it for.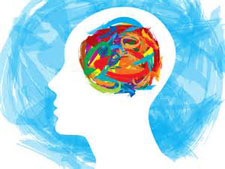 We see hideous crimes committed regularly in society. There is almost always something horrific in the news that you would think, "Clearly that person must be insane to commit such a horrible crime against humanity." And so, we watch as they choose to plea insanity. Now, the significance of proving insanity in the court room is that if you are deemed insane you are no longer eligible for the death penalty and cannot be held responsible for your actions in the same way a sane person would be, according to the U.S. Criminal Resource Manual. (1) An obvious draw for completely sane people to want to fake a mental illness, right?
You certainly don't have to commit a horrible crime against humanity to consider the idea of faking a mental illness. Average people, leading average lives attempt to fake mental illnesses such as depression and anxiety often. Again, you may be asking yourself, "Why?" People with mental illnesses, similar to physical illnesses, receive attention. People want to hear about your struggle and help you cope or even help you overcome your mental illness. People who strongly desire attention may seek it through faking sick, mentally. But is it possible?
According to the Queensland government, "It is extremely difficult to 'fake' mental illness, particularly for an extended period of time." (2) While someone may be able to imitate depression-like or insanity-like symptoms for a short period of time, eventually ones' true colors will begin to show. In addition, a series of tests have been specifically put in place to weed out any potential fakers when it comes to pleading insanity within the court room.
It is important to note that while people who attempt to fake a mental illness for whatever benefit entices them often has an underlying root cause. They may have a great need for attention from others or enjoy lying and fooling people. Or they simply want an escape from the responsibility of the crimes they commit. Whatever the case may be, it's important for us to look beyond the failed attempt to deceive.
From the court room to the dinner table and everywhere in-between, you may witness someone who attempts to fake a mental illness. Whether it be insanity, depression, anxiety, or another form of mental illness, there are a variety of benefits that comes with faking it. But don't be alarmed. Faking a mental illness is extremely difficult, especially for an extended period of time. It turns out, you can't fake it!
Mark D. Parisi, Psy.D. & Associates, P.C. provides counseling, psychological testing, and psychotropic medication management in Mount Prospect and Chicago – serving surrounding Cook, Lake, DuPage, and Will Counties. They accept most insurance and offer extremely affordable sliding scale rates. Call (847) 909-9858 for a free, no-obligation telephone consultation
###
Sources:
Criminal Resource Manual, Perks of pleading insanity, 2015, http://www.justice.gov/usam/criminal-resource-manual-634-insanity-defense-reform-act-1984
Frequently Asked Questions about Mental Illness, Difficult to fake mental illness quote, 2006, https://www.health.qld.gov.au/forensicmentalhealth/indigenous/docs/ind_fs1.pdf