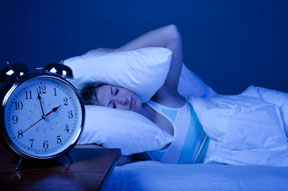 According to the National Sleep Foundation, 40 million Americans suffer from over 70 different sleep disorders and 60 percent of adults report having sleep problems a few nights a week or more.(1) Clearly, getting adequate sleep is a nationwide problem, and one that is leaving lasting negative effects.
"Millions of people don't get enough sleep, resulting in such problems as daytime sleepiness, poor decision making, interference with learning and accidents," according to the American Psychological Association (APA). (2) If you are someone who struggles with sleep insomnia you know firsthand how challenging it can be to cope. But there's hope!
To help, here are proven, practical application tips for coping with sleep insomnia and gaining a good nights' sleep.
Restrict. Restrict the amount of time you spend in your bed to only time actually sleeping. Refrain from laying in your bed to read or rest signaling the brain mixed directions. Your bed should be restricted to a place of sleeping only.
Wait. Instead of going to bed at a routine time every day, wait until you begin to feel sleepy before putting your head to the pillow. This will help insure a nights' sleep with minimal tossing and turning.
Try again. According to the APA, if you are unable to sleep within about 20 minutes or so, you should get out of bed and go to another room until feelings of sleepiness return. Notice, you are only to return to your bed with you are feeling tired again.
Maintain. While it is recommended that you do not go to sleep at a set time, but rather when you are feeling sleepy- you should maintain a strict sleeping schedule when it comes to waking up. Be sure to wake up each morning at the same time regardless of the amount of sleep you received.
Avoid. Often times, those who struggle to sleep at night time, turn to day time cat-naps. Unfortunately, this can make getting into a regular sleep routine even more challenging. Try waiting until night to catch up on all your sleep. This will help you fall asleep quicker and feel more rested in the morning.
With sleep insomnia affecting Americans all across the nation many people are struggling with how to cope. Putting proven, practical application tips like restricting, waiting, trying again, maintaining, and avoiding into action can make all the difference. By doing so you can gain a good nights' sleep!
Mark D. Parisi, Psy.D. & Associates, P.C. provides counseling, psychological testing, and psychotropic medication management in Mount Prospect and Chicago – serving surrounding Cook, Lake, DuPage, and Will Counties. They accept most insurance and offer extremely affordable sliding scale rates. Call (847) 909-9858 for a free, no-obligation telephone consultation.
###
Sources:
Getting a Good Night's Sleep With the Help of Psychology, Number of Americans with sleep disorder stats, 2004, http://www.apa.org/research/action/sleep.aspx
Sleep, Negative effects of sleep insomnia, 2015, http://www.apa.org/topics/sleep/index.aspx