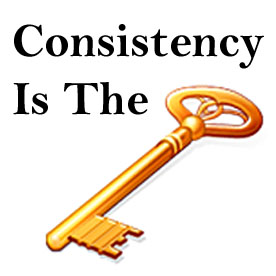 It is common for people to have emotional highs and lows caused by everyday stress.  However, there are some people who suffer from a severe mental illness known as bipolar disorder in which sudden shifts in mood and energy may be seen on a regular basis (1).  These mood swings can negatively affect a person's home life as well as his career if they are not controlled as well as possible.  However, as with most mental illnesses, having a consistent routine can ease the symptoms and make the disorder easier to handle.  There are 3 areas of consistency that should be met.
1. Be consistent in your treatment. There are many treatments that can be used for bipolar disorder.  Some people are capable of coping with it on their own while others may need the help of a therapist or need to take medication to provide a balance (1).  No matter which one you choose, however, it is important to be consistent in your treatment.
For example, once you find a good therapist, stick with him so that you become comfortable talking to him.  Once you find a medicinal regimen that is providing relief, continue taking the same type and amount; switching medicines can also mean suffering from different side effects.  Constantly looking for new doctors or trying new medicines is going to cause even more stress for a person with bipolar disorder.
2. Be consistent in your daily routine. A person who knows what to expect on a daily basis will be able to cope better with bipolar disorder, according to the American Psychological Association. (2).  A daily and weekly routine should consist of schedules for many things, such as work, school, errands, exercise, sleep, relaxation, etc.
For example, try to eat each meal and snack around the same time each day, and choose your foods wisely to keep your body and mind regulated.  Even if that means taking a break at work to replenish your body, it is important to stay consistent.  As part of your routine, you can even do your best to control how much time is spent with certain people.  Having a routine of daily activities will prevent unexpected circumstances, which can easily trigger a reaction in someone with bipolar disorder.
3. Be consistent in your sleep. Getting enough sleep has been shown to provide relief from many physical and mental ailments, and the same is true with bipolar disorder.  Sleep deprivation can increase the effects of bipolar disease in many ways.
First, the overall quality of life is lessened, which can cause more depression and stress.  Second, sleep deprivation can increase the chances of a relapse in a person who has the disorder under control.  Third, cognitive functions are greatly affected by a person's sleep habits, and this is especially true in those that suffer from a mental illness.  If you are having trouble getting enough sleep, you can make adjustments to your diet and physical activity and see if that helps (3).
Routines and consistency are beneficial to everyone, but this is particularly true for those with bipolar disorder.  If you are struggling to control your symptoms, sticking to a routine may be just what you need.
Mark D. Parisi, Psy.D. & Associates, P.C. provides counseling, psychological testing, and psychotropic medication management in Mount Prospect and Chicago – serving surrounding Cook, Lake, DuPage, and Will Counties. They accept most insurance and offer extremely affordable sliding scale rates. Call (847) 909-9858 for a free, no-obligation telephone consultation.
###
Sources:
1. What is Bipolar Disorder? Definition and treatments, 2015, http://www.nimh.nih.gov/health/topics/bipolar-disorder/index.shtml
2. Consistent Routines May Ease Bipolar Disorder, Importance of daily routines, 2008, http://www.apa.org/monitor/feb08/consistent.aspx
3. Sleep Disturbance in Bipolar Disorder, Importance of sleep, 2009, http://www.apa.org/monitor/feb08/consistent.aspx