So, stress is up! We all know that high stress levels are on the rise all across the nation but what's the real truth about stress today? Why is it impacting everyone we know- both the young and the old, and why does its negativity reign supreme?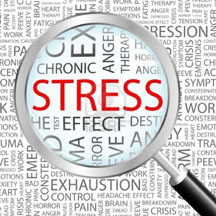 According to the key findings of the American Psychological Association (APA), there are 2 terrible truths about stress today (1). To help you better understand these truths and in return your own personal stress, here's more.
1. Self-care is not a priority. Only forty percent of Americans rate their health as very good or excellent, leaving the remaining sixty percent with less than adequate self-rated health, as stated by the APA. (2) The first terrible truth about stress in America is a lack of self-care. It's simply not a priority. Instead of managing stress in healthy ways by staying active, eating nutritional meals, and making our personal health a priority we opt to indulge in unhealthy behaviors like drugs and alcohol, over or under eating, and being lazy when it comes to regular exercise.
The APA continues to provide a list of startling facts including, "two-fifths of Americans reported overeating or eating unhealthy foods due to stress." (3) The terribly sad truth is that we, as Americans are taking part in a viciously repetitive cycle. We choose to eat unhealthy, not be active, and overall not make self-care a priority which in return creates stress in our life. And what do we do because we are feeling stressed? We continue to eat unhealthy, not be active, and not make self-care a priority. Yikes!
2. Lack of willpower is the problem. The second truth in our one-two-punch against stress is the lack of willpower. The APA cites the lack of willpower as being the biggest barrier to adopting healthier behavior and continues to inform us that survey respondents are mistakenly relying on an inner strength to make necessary health changes (4). Similar to standing in front of an empty refrigerator with the door wide open waiting for something delicious to appear, you too should stop waiting for some inner strength to emerge against unhealthy choices.
Willpower is a choice you make, not something that all of a sudden happens within you. Combatting the stress in your life requires better health choices through nutrition and exercise and both of those choices take a strong will power. Don't be afraid to awaken yours.
Stress is up because self-care and willpower are down. The 2 terrible truths, the first being that Americans are not prioritizing self-care through eating healthy and being active and the second, that Americans have a lack of willpower are society's downfall when it comes to combatting stress. Want to beat the stress in your personal life? It's as simple as prioritizing your health and having the willpower to stick to those healthy choices.
Mark D. Parisi, Psy.D. & Associates, P.C. provides counseling, psychological testing, and psychotropic medication management in Mount Prospect and Chicago – serving surrounding Cook, Lake, DuPage, and Will Counties. They accept most insurance and offer extremely affordable sliding scale rates. Call (847) 909-9858 for a free, no-obligation telephone consultation.
###
Sources: