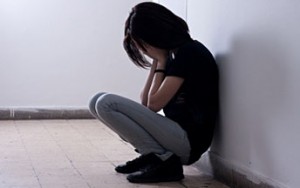 While many of us are familiar with ways to both control and cope with depression symptoms, you may be surprised to learn that research findings show we may also be able to help prevent them. According to the American Psychological Association (APA) psychologists Jane Gillham, Lisa Jaycox, Karen Reivich, and Martin Seligman all set out to prove just that (1).
The APA continues to state that through their school based prevention program the team of psychologists were able to reduce the number of depressive symptoms and improve overall classroom behavior in participating young people (2). It's time for parents, teachers, and caregivers alike to turn their attention from controlling to preventing depression in school age children.
To better equip you, here are 3 ways to help prevent depression in the school age children closest to you.
1. Encourage strong, caring relationships early on.
When it comes to preventing depression in children, providing a valuable foundation consisting of strong, caring relationships with parents, teachers, relatives, and even community early on is key. According to a 2014 Delphi Consensus study, "The family setting, particularly parents, is a strategic target for preventive interventions for youth depression and anxiety disorders." (3)
Help to prevent adolescent depression by simply encouraging strong, caring relationships from the start.
2. Leaving space for living life.
Far too often, caregivers opt to become helicopter parents, or simply parents who hover over their child's every move, in hopes of protecting children not only from scrapes and bruises but also depression. Unfortunately, helicoptering is not the answer. Instead, leave space to allow them to live life through trial and error. Allow them to make mistakes, learn new things, chase after dreams, and yes, even get a few scrapes and bruises along the way.
Allowing them to experiment teaches them how to maneuver through both triumph and failure in a healthy way.
3. Establish open and honest communication.
Promoting communication that is both open and honest within your home, classroom, or other area of inhabitance is a proactive way to help prevent the development of depression. By doing so you can create an atmosphere where children feel comfortable both sharing and exploring the link between thoughts and feelings just as participants in The Penn Resiliency Project, the school based program developed by psychologists to prevent depression, did. (4)
With depression on the rise it only makes sense that parents, teachers, and caregivers alike would want to turn those increasing frowns upside down. Luckily, the prevention of depression in school age children is hopeful. You can do your part by simply encouraging strong caring, relationships, leaving space to live, and establishing open and honest communication. Together we can help transform depression one smile at a time.
Mark D. Parisi, Psy.D. & Associates, P.C. provides counseling, psychological testing, and psychotropic medication management in Mount Prospect and Chicago – serving surrounding Cook, Lake, DuPage, and Will Counties. They accept most insurance and offer extremely affordable sliding scale rates. Call (847) 909-9858 for a free, no-obligation telephone consultation.
###
Sources:
1. School-Based Program Teaches Skills That Stave Off Depression, School-Based program findings, 2003, http://www.apa.org/research/action/school.aspx
2. School-Based Program Teaches Skills That Stave Off Depression, School-Based program findings, 2003, http://www.apa.org/research/action/school.aspx
3. Parenting strategies for reducing the risk of adolescent depression and anxiety disorders: a Delphi consensus study, Strong relationships quote, 2014 http://www.ncbi.nlm.nih.gov/pubmed/24359862