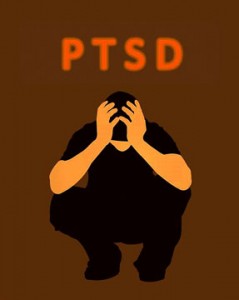 PTSD, or post-traumatic stress disorder, is an anxiety problem that develops in some people after extremely traumatic events, such as combat, crime, an accident or natural disaster, according to the American Psychological Association. (1) PTSD is often acted out through nightmares, hypervigilance, flashbacks, anger, or depression and can often complicate close relationships like families.
According to the American Psychological Association (APA), PTSD is considered one of the mental health conditions most likely to lead to relationship problems (2) but families can find hope in learning new ways to cope.
Stress management skills. Families should take the time to learn stress management skills. These skills may include eating healthy, getting active, allowing for alone time, getting adequate sleep, and establishing necessary support. By learning these skills as a family you can help one another along the way.
Realizing everyone is impacted. In most scenarios, one family member, often mom or dad, is diagnosed with PTSD- not the entire family. But this does not mean that others are not affected too. In fact, the APA stresses that everyone in the family is affected by PTSD even if it's not apparent at first or some members aren't as quick to show it.
Everyone processes trauma differently. Like with many emotions, there are a variety of ways to process trauma. Not everyone will react in the same way as you. Realizing this will help you understand one another and in return, be able to offer help when needed. Just because someone doesn't handle trauma in the same way you do, does not mean they aren't experiencing affects.
Establishing a universal plan. Together, families need to establish a plan. How are you going to address the event to outside family and friends? Especially for emotional traumas such as rape or abuse, this step can be important to healthy coping. Establish a universal plan that everyone agrees with.
To families experiencing it, PTSD is so much more than a stress disorder. It's a mental illness that threatens to tear their family apart. By turning to each other to cope instead of trying to tackle extreme traumas individually you can better help lessen the relationship effects of PTSD. Coping with PTSD as a family means learning stress management skills, realizing everyone is impacted and processes trauma differently, and establishing a universal plan. Together you can cope, conquer, and thrive as a family despite PTSD.
Mark D. Parisi, Psy.D. & Associates, P.C. provides counseling, psychological testing, and psychotropic medication management in Mount Prospect and Chicago – serving surrounding Cook, Lake, DuPage, and Will Counties. They accept most insurance and offer extremely affordable sliding scale rates. Call (847) 909-9858 for a free, no-obligation telephone consultation.
###
Sources:
Post-Traumatic Stress Disorder, Definition of PTSD, 2015, http://www.apa.org/topics/ptsd/index.aspx
Helping Families Cope with PTSD, Relationship impact of PTST, 2015, http://www.apa.org/monitor/jan08/helping.aspx