Even though they may not like to admit it, men suffer from mental illness almost as much as women. However, the general characteristics of a man often leads to his handling mental illness in a way that is detrimental to his health.
Men and mental illness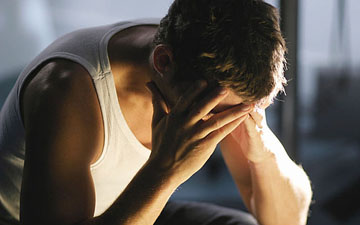 The most common mental illness in men is depression. While this is often caused by post-traumatic stress disorder after serving time in the armed forces, many men suffer from depression for genetic, psychological, and stress related reasons (1). In fact, studies showed that over 6 million men in America suffer from depression. Their reaction to depression is usually substance or alcohol abuse, anger (sometimes abusive), and even suicide (2).
Men and Suicide
Only about half as many men suffer from depression as women do, and yet the suicide rate for men is four times that of women. How can this be true? There are a few reasons to consider (3).
Men have a higher attempt to suicide ratio, meaning that they are more likely to succeed in killing themselves than women.
Females are more likely to have suicidal thoughts, but men are more likely to follow through on theirs.
Men most often use firearms when attempting suicide while women usually try to take something orally – it is much easier to save women in an attempt like this.
Men and Seeking Treatment
When it comes to mental illness, men are much less likely to get help for the following reasons (among others):
Pride. It is very hard for most men to admit that something is wrong. They like to pretend that they have everything under control and don't need help from anyone. Sometimes their pride causes them to overlook the problem and pretend it doesn't exist or that it is just a coincidence. Other times, men are aware that something is wrong with them but their pride convinces them that they can hand it on their own (1).
Responsibility. The majority of men have innate desire to provide and care for a family. If they are unable to do so because of a mental impairment, it can lead to a feeling of worthlessness and therefore worsen the condition. Because they feel this overwhelming responsibility, they tend to ignore the problem or even immerse themselves in more work.
Selfishness. A man plays many roles in life, but he most likely still enjoys hobbies like working out, fishing, building cars, playing games, etc. If he is spending time and money on getting treated for a mental condition, he may have to give up certain things that he enjoys in life. This selfishness can negatively affect not only the man himself, but also his family and friends.
If a man is honest with himself, he knows whether or not there is something wrong with him. If he is able to get over his pride and selfishness and get help, he can use his overall competitive and determined nature to succeed in overcoming the effects of mental illness.
Mark D. Parisi, Psy.D. & Associates, P.C. provides counseling, psychological testing, and psychotropic medication management in Mount Prospect and Chicago – serving surrounding Cook, Lake, DuPage, and Will Counties. They accept most insurance and offer extremely affordable sliding scale rates. Call (847) 909-9858 for a free, no-obligation telephone consultation.
###
Sources:
Men and Mental Illness, Mental disorders common in men, 2015, https://www.urmc.rochester.edu/encyclopedia/content.aspx?ContentTypeID=1&ContentID=4565
Men: A Different Depression, Depression in men, 2015, http://www.apa.org/research/action/men.aspx
Suicide: Facts at a Glance, Men and suicide, 2012, http://www.cdc.gov/ViolencePrevention/pdf/Suicide_DataSheet-a.pdf