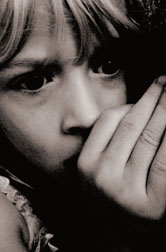 It's unfortunate today, how tragedy has become such a routine part of our lives. Whether on a small scale, such as the death of a loved one or on a national scale with the influx of terrorism, tragedy is hitting home far more frequently than ever before in our history. We would be gullible to believe these tragedies aren't affecting our children too.
Helping children understand, cope, and live through tragedy can be challenging but it's important they know they are not alone. Teaching them how to move forward in a positive manner is key to them living a successful adult life as a member of society. To better equip you, here's how to help children cope with tragedy.
Recognize. The first step in helping a child cope with tragedy is being able to recognize the signs of disaster-related stress. According to FEMA, these signs could include difficulty communicating thoughts, difficulty sleeping, limited attention span, headaches/stomach problems, colds or flu-like symptoms, depression, fear, or overwhelming guilt. (1)
Communicate. While it may be difficult at first, it's important to keep communication open between you and your child. Encourage them to share their thoughts and feelings about the tragedy including how it made them feel. And answer any questions they may have honestly. Maintaining a calm persona will help them feel at ease.
Listen. As your child shares their feelings about the incident with you it's important that you listen intently. "It's also key to listen closely to your child for misinformation, misconceptions, and underlying fears," according to the Mayo Clinic. (2) Turning an ear to these details can better help you correct any misinterpretations and reassure them of any concerns of new fears they may have.
Limit. For coping with large, media-based tragedies, it may be best to limit your child's time spent listening or watching media. This allows you to control exactly what your child sees and hears about the event.
Seek help. Parents should never be afraid to seek help for their child. By finding a professional to speak to you can better help your child cope with the tragedies happening around them. A professional will also be able to direct you and provide additional tips for assisting your child.
Tragedies happen almost on a daily basis it seems. No matter how small or large a tragedy may be, it's important to take the time to help your child cope. They are likely fearful, sad, and unsure. By recognizing these stress signs, opening up communication and listening, limiting their media exposure, and seeking help you can offer your child the loving support they need.
Mark D. Parisi, Psy.D. & Associates, P.C. provides counseling, psychological testing, and psychotropic medication management in Mount Prospect and Chicago – serving surrounding Cook, Lake, DuPage, and Will Counties. They accept most insurance and offer extremely affordable sliding scale rates. Call (847) 909-9858 for a free, no-obligation telephone consultation
###
Sources:
Coping With Disaster, Disaster-related stress signs, 2015, https://www.fema.gov/coping-disaster
Helping Children Cope, Listen closely quote, 2012, http://www.mayoclinic.org/healthy-lifestyle/childrens-health/in-depth/helping-children-cope/art-20047029